Native Immersion (Study Abroad)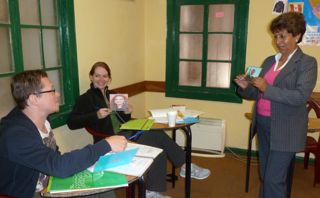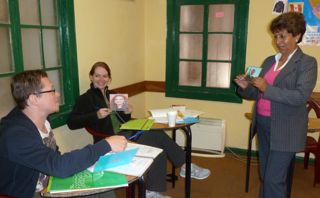 Native Immersion (Study Abroad)
Price listed is the average base price per person based on a group of 2 people, double occupancy. Price varies based on length, class of transportation / accommodations, travel dates, and group size. Please contact us for a personalized quote.
 
IMMERSE YOURSELF IN LANGUAGE AND CULTURE
The absolute best way to learn a language is through immersion, where you speak, hear, and see it 24 hours a day.
Our volunteer and study abroad packages offer travelers a chance to build cross-cultural connections through genuine and personal interactions with the local people. Volunteers experience the rich, cultural diversity of the country while developing their Spanish skills.
We offer volunteer and language study programs in Cusco, Urubamba, and Manu Amazon jungle.
Customize the ideal experience for you, with any combination of language study, volunteering, and/or travel.
We can customize most of our tours to include language classes, whether for a few hours a day or a few months. We invite you to browse our sample study programs and journeys and then contact us to customize the most meaningful experience for you, based on your language level and interests.
Volunteer and Study Locations:
• Cusco
• Urubamba
• Manu Amazon jungle
Length:
• 1-2 hours per day
• 1-12 weeks
Many travelers combine language study with volunteer service, tours, and/or cultural workshops. A typical weekly schedule for one of our students:
• Monday – Friday: ½ day classes and ½ day volunteer projects
• Saturday – Sunday, holidays: Excursions and cultural workshops
or
• Monday – Friday: evening classes and day trips / cultural workshops
• Saturday – Sunday, holidays: longer excursions
Have more time? Add an adventure, explore Lake Titicaca, or add more day trips!
EXTRA CURRICULAR ACTIVITIES
Study and volunteer programs include optional outside activities to help you immerse yourself in the local culture. The frequency and availability of activities depends on the location of your volunteer or language study program, the season of the year (climate), and local festivities and holidays. The standard trips involve traveling with fellow volunteers or students and include a free guide and coordinator, but transportation, meals, and entry fees must be paid for out-of-pocket. If you'd like to arrange private transportation for excursions during your volunteer or study program, we are happy to customize and quote this upgrade for you.
See our list of extra-curricular activities.
ACCOMMODATIONS
With our volunteer and language study programs, students have the standard options of staying with a host family (three meals per day) or at a student residence (breakfast only). Private flats or hotel accommodations can be arranged for an additional cost.
Read more about our host families...
| | | | |
| --- | --- | --- | --- |
| Location | 1 Week | 3 Weeks | 6 Weeks |
| Cusco | $1,200 | $3,600 | $7,200 |
| Urubamba | $1,500 | $3,000 | $6,000 |
| Amazon Jungle | $3,000 | N/A | N/A |
| Cusco-Urubamba-Amazon | N/A | $5,700 | $11,400 |
All pricing is per person up to 6 travelers. Please contact us regarding special pricing and accommodations for large groups.
All prices are USD. Price listed is the average base price per person based on a standard accommodations double occupancy for 2015. 2016 prices TBD. Pricing and product availability are subject to change without notice until purchased. Please Request a Reservation for exact pricing and to determine departure date availability.
FAST FACTS
•Duration: 1-8 weeks
•Surface: stone-carved stairs, jungle wetlands
•Activity level: Level 1 – Easy
•Total distance on foot: 3-5 miles / 5-8 km per day
•Average daily walking time: 3-4 hours intermittent
•Altitude: 8,829 - 11,800 ft / 2,700 - 3,600 m
•Availability: Daily, year-round
•Calendar
◦Apr-Oct: best
◦Nov & Mar: fair
◦Dec-Feb: wet
•Accommodations: standard (host family or student/volunteer residence) or deluxe (hotel)
•Meals:
◦ Host family – 3 meals a day included
◦ Student/volunteer residence – breakfast included
◦ Hotel – meals not included
◦ Extracurricular activities – meals not included
•Weather: Hot days/nights (jungle), warm days/cold nights (mountains)
•Restrictions: Some service programs have certain skills requirements and time commitments
INCLUDED
• Travel Insurance.
• English/Spanish/Quechua bilingual professional guides.
• Meals (included with certain accommodation types).
• Volunteer/student placement, monitoring, and support staff.
• Accommodations (host family or student residence).
• Airport reception/departure and transfer to/from accommodations of language study or volunteer facilities.
NOT INCLUDED
• International or domestic airfare.
• Visa fees (if any) or taxes.
• Entry fees to parks for all cultural excursions.
• Bus transport to all cultural excursions.
• Machu Picchu (purchased separately)
• Tips for personnel: guide, etc.
• Extra services (spa, laundry, etc), personal items, or additional tours not listed in the program itinerary.
• Alcoholic beverages.
• Local taxes (18% IGV) on all services applicable to Peruvians, foreign residents in Peru, and tourists traveling in Peru for 60+ days.
RECOMMENDATIONS
• In the Andes the split between dry and wet seasons is acute. The dry season runs from April to October (the best time for hiking); the rainy season goes from November through March. Temperatures can vary significantly, from about 50-82ºF (10-28º C) in the day to 32-50ºF (0-10ºC) at night, depending more on the altitude than the time of year.
• LAN and its partners are the only international airlines to offer flights to Cusco. If you need help booking domestic flights in Peru, let us know via email or in your Request Reservation form.
• Many international flights arrive at Lima airport in the late evening, while flights to Cusco and other domestic airports leave from 6 to 11 am. If you have a long layover and would like to add a hotel (onsite at the airport) to your package, please let us know.
• Read about What to Bring on your trip.
Want to upgrade your accommodations? Have your own vision? Not sure what you want? Customize your journey! We can tailor the entire trip length, the accommodations, and the transportation to match your interests, budget, and trip dates. Just click "Request Reservation" and tell us what you're thinking or email us to set up a free consultation with one of our adventure specialists.